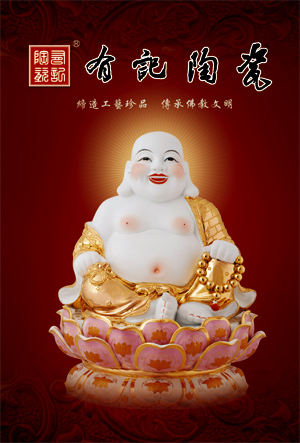 有记陶瓷佛艺制作厂座落于中国瓷都——潮州市,主要生产高档的陶瓷佛像和佛具精品,是一家集设计、生产、彩绘、销售为一体的专业生产厂家。"有记"成立于上个世纪80年代,经过十多年两代人的努力奋斗,已从一个只有几人的家庭作坊发展成为拥有百余人的具有一定规模的厂家。今天,凭借精湛超群的工艺和诚信服务的理念,"有记"在同行中像颗璀璨的明珠脱颖而出,在市场上已经作为高档陶瓷佛像的代表产品,深深根植在广大客户心中,多年来一直深受好评,广受欢迎。
有记陶瓷深知产品质量是企业的惟一生命线,因此严把质量关成为企业发展的关键。在佛像制作过程中,严格要求,一丝不苟。产品材料精挑细选,制作工艺精益求精。以传统工艺为基础,依据民间的传说,结合现代的审美观点,塑造出来的诸佛菩萨之法像,造型典雅,栩栩如生,庄严殊胜,深受佛界各位人士的好评,是广大僧人、居士供奉收藏的艺术精品。
有记陶瓷佛艺制作厂是一片净土,是一片专门为诚造佛像而持守戒律的净土。最为可贵之处,乃是企业的创办人蔡居士,长期持素,勤守戒行,坚持先修于心,后造于手的恪训。在他的倡导下,工厂的全体员工每逢初一、十五和佛旦日,都守斋持素,诚心祈愿,把人性中的善念溶入到佛像的制作过程当中,将企业文化与佛教文化有机结合起来,使之成为弘扬佛教文化的平台。这也正是蔡居士的理念所在:冀望于此一点虔诚信念,与四海民众,同通诸佛菩萨之灵性,在诸佛菩萨高尚、永恒之圣容前,顿起敬心,道交感应,共沐法雨,共创福报,此亦制作者之一片虔诚心愿也。
----------------------------------------------------------------------------------------------------------------------------------------
Youji Buddhism Craft Ceramics Manufactory is located in the porcelain capital of China - Chaozhou city, mainly produce high-grade ceramic Buddha statues and a boutique, is a set of design, production, painting, sales of professional manufacturers. "Has in mind," was established in the last century 80's, after more than ten years of the efforts of two generations of struggle, only a few of the family from a workshop developed into hundreds of people have a certain-sized manufacturers. Today, with exquisite craftsmanship and superior services, the concept of good faith, "has in mind" in counterparts stand out like stars shining pearl in the market has been as high-grade ceramic statues representative of products that were deeply rooted in the hearts of our customers for many years been well received and popular.
Have in mind is the enterprise product quality ceramic knew the only lifeline, so strict quality control to become the key to the development of enterprises. In the Buddha production process, strict, meticulous. Products carefully selected materials, production process excellence. The traditional craft-based, based on folk legends, combined with a modern aesthetic point of view, shaped by Buddhas Bodhisattvas of the law, like, looks elegant, lifelike, solemn Most Excellent, deeply Buddhist community who praise you, the vast number of monks, lay dedicated to the collection of art.
Have in mind ceramic art production plant is a Buddhist Pure Land, is a statue dedicated to Seizo and hold on to the precepts of the Pure Land. The most valuable point, Nai Shi Cai Lay, founder of business, long-term holders of prime, ground Shoujie line, insist on pre in mind, the latter built in the hands of Ke training. Under his initiative, the factory staff every eye for an eye 15 and the Buddha once to Japan, they hold fasting Su, sincere prayer, the human nature benevolent thoughts dissolve into the statue's production process, the enterprise culture and Buddhist culture combine to make it into a platform for promoting Buddhist culture. This is exactly where the concept of lay Cai: look to this little pious faith, and the whole world population, with each Buddhas Bodhisattvas of spirituality, in the Buddhas Bodhisattvas noble, eternal Holy Face ago, Dun Qi Jing heart, Road cross-sensing, A total of Mu-law rain, create a reward, also goes to the producer is also a pious wish.